Terracotta Roof Restoration and Repair
Do you have a terracotta roof that needs to be repaired or restored to its former glory? Are you looking for an experienced local business that cares about your terracotta roof as much as you do? Then come to Bayside Roof Repairs and Restorations. One of our specialties is fixing and replacing terracotta roofs, and we've been doing it since 1999.
Trust us with your terracotta roof
Bayside Roof Repairs and Restorations are well known in the Brisbane Bayside area for high-quality service and results. We're a trusted local business that is highly experienced with terracotta roofs.
Our wealth of experience starts at the top and extends to all our employees. Business owner, Todd Shakespeare, has 23 years of roofing know-how, including:
roof tiling
re-roofing in tiles
repair work
re-spraying
pressure cleaning.
But that's not all—the rest of our team has over 44 years' experience in the roofing industry.
You don't have to take our word for it though. If you'd like to find out what our customers think about us, read some testimonials.
Fixing or replacing a terracotta roof
Whether you need your terracotta roof repaired, restored, or replaced, we can do it all for you.
And when you hire Bayside Roof Repairs and Restorations, you can be sure that we'll always use the highest quality products for your terracotta roof. We've learned from decades of experience which products are the most durable.
We don't believe in cutting corners, inferior products, or rush-jobs. We do the job properly first time around. And most of our products come with a 10-year warranty.
The best prices on terracotta roof repairs
Just because we have highly experiences staff and use the best products, it doesn't mean you'll pay more money. In fact, we strive to provide very reasonable and competitive prices to all our clients.
So if you get a better quote for a terracotta roof repair, restoration or replacement, let us know. We'll do everything in our power to match quotes for the same services and products.
Terracotta roofs are a solid choice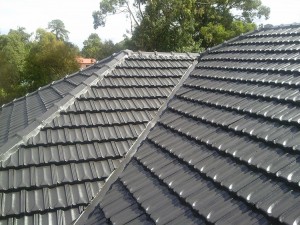 While terracotta roofs are made to last, as well as withstand harsh UV rays, they're not indestructible.
South East Queensland has some pretty dramatic summer storms that often include large hailstones and can dislodge trees.
So if your terracotta roof has been damaged during a storm, get it looked at as soon as possible. The quicker you act, the less likely the job is to escalate and become a much bigger one.
Alternatively, if your terracotta roof is just looking a bit run down from decades of harsh climatic conditions, contact us. We can talk you through your options.
Contact us about terracotta roofs
If you have any questions about your terracotta roof, contact us. We'll check out your roof and advise you whether you're best to repair it, restore it or replace it.