We have many years of roof repair experience
If you have a leaking roof please get in touch and we can help you discover the cause and fix your roof for you.
The cost to fix your roof depends on what the problem is. So below we have list the 12 most common causes of leaky roofs.
12 Causes of Leaky Roofs
If your roof is leaking one of these may be the cause
1. Storm Damage
One of the most common causes of sudden roof damage is the famous afternoon storms that hit Brisbane and SE QLD during summer.
If you have an old roof there is more chance that these storms, in particular, hail storms could do some damage causing roof leaks. You may not notice the leak straight away.
2. Roof Flashing
Flashing is thin layers of metal sheets, strip or fitting that covers a seam or transition point in your roof and are installed under the shingles and joints of your roof. These can either be concealed or exposed. 
Flashing is the most common area of your roof to leak and is easily damaged over time. Causes include:
Broken flashing (large cracks in your roof)

The flashing could have been poorly installed to begin with

The flashers are a lower quality than you thought
3. Old Skylights
Leaks such as this should be easy to spot. If there is consistently a pool of water or small drips coming from the area surrounding the skylight, there is most likely to be a leak. 
However, keep in mind that leaks occurring near the highest point of your roof can be a flashing issue rather than a skylight issue.
Having skylights really adds ambience and natural lighting to your home but when they are not built right or installed properly they can cause more harm than good. If you have a skylight that is older, a problem with a leak is almost inevitable.
If you notice that the downhill slope of your skylight is filling with water more easily, you will be dealing with a leak in the near future.
4. Shingle Damage
By regularly looking at your roof for large changes in colour and missing shingles you can identify this easily. Often, a broken shingle will appear as a slightly off colour or a light spot on your roof.
Your roof most likely is not a top priority in your mind if it's still functioning properly but you have to remember that your roof will not last forever. How many years has it been since your roof was installed?
Roofs that were built 30 years ago or more were made out of much different and less durable materials than what is used today. Only shingles will start to crack, which can cause your roof to leak.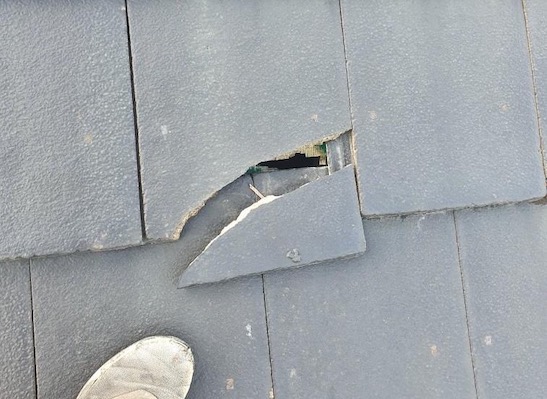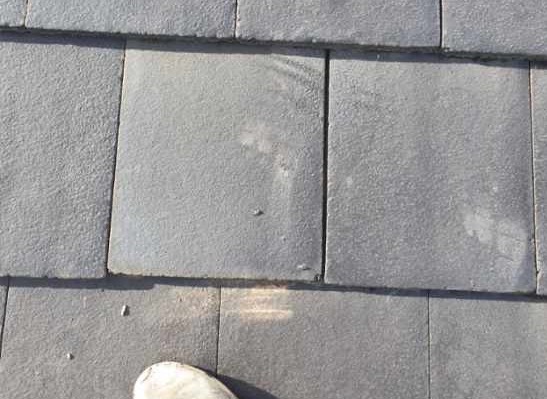 5. Plumbing Pipes & Vents
Common plumbing issues arise when having to drill holes in your roof. Plumbing vent pipes, exhaust flues for appliances and ventilation ducts are amongst the most common necessities that have to exit through your roof.
Cracked or worn flashing around these pipes and flues are one of the most common leak sources on your roof.
Roof vents can look like pipes or small domes sticking up from your roof. They primarily expel moisture from an attic or roof space. To check for a leak you should look for musty odours or dark spots in your roof.
6. Valleys aren't properly sealed
The point where two different planes of your roof meet is called a valley. Since roofs are mostly sloped, the rainwater can rain down and get inside if these are not sealed properly.
Tip: Look for wet spots along the roof seams to identify valley leaks.
7. Gutters are clogged
You will likely know when your gutters are clogged because water will pour over the side of your gutters instead of running down them.
Another way to identify clogged gutters is to take a look when it's raining. The gutter is likely clogged if no water is coming out the end of the pipes.
Blocked gutters is a common roof problem that is very easy to prevent yet it happens more frequently than it should.
8. Buildup on the roof
If there are leaves, debri or other materials blocking valleys and joints in your roof, water can pool causing the sealant to deteriorate and cause leaks.
Leaves become a major problem due to when they fall onto your roof they block the flow of water that is trying to safely and efficiently move through your gutter system when it rains and if your gutter is to full of leaves, it can cause your gutters to buckle or your roof to cave in.
9. You're using your roof too much
Weak or spongey points in your roof can occur if you are using your roof too often. 
Walking on and/or doing maintenance while standing on your roof can also cause cracks to occur.
10. Age of Roof  
Over time, roofing material can weaken. Common causes of this happening are:
Harsh weather (rain, hail, wind)

Harsh exposure to sunlight
These can lead to the deterioration of your roof, making it easier for water to sneak in. 
The sooner you repair roof leaks on an ageing roof, the better.
 11. Fascia Damage
Soffits and fascia are at risk of water damage over time. Water can soften the fascia and cause holes.
Small animals like birds and lizards can find these holes and make the problem much worse.
12. Leaking Chimneys
The leading cause of chimney leaking is failed flashing. Water can pool at the base of your chimney and having pooling water on your roof is never a good thing.
Most of the time you can look for signs of wear and tear along the mortar or the flashing where the chimney meets the roof. Your chimney creates a huge hole in your roof and it also collects water on the surface, which can trickle down and get into the smallest cracks.
It's also important to remember that when your chimney is leaking, damaged shingles and dark spots can occur as well so it should be a priority to fix your chimney leak as soon as possible.
If you have a leaky roof (and you live in Brisbane north to the Sunshine Coast or Brisbane South to Logan and Brisbane Bayside or Redlands) contact us at Bayside Roofing for all your repair, restoration and roof painting needs. We also have a roof maintenance service so we can check your roof on a regular basis.