Why should you inspect your tile roof?
Inspecting your roof may take time and be inconvenient.  When was the last time you checked yours?
Your tile roof should be inspected at least twice a year, and also after storms and severe weather events.  If you find any damage during your inspections, then call an expert in to access before the small issue becomes a large, costly problem. An inspection of your tile roof assesses it's integrity, and helps find potential damage and issues early. Don't wait until your roof is leaking, the damage is already done!
You don't need to call in a professional to inspect your roof.  Follow these simple tips to inspect your roof and check it's condition, you will then know if repair work is needed or it is time to replace or restore the roof.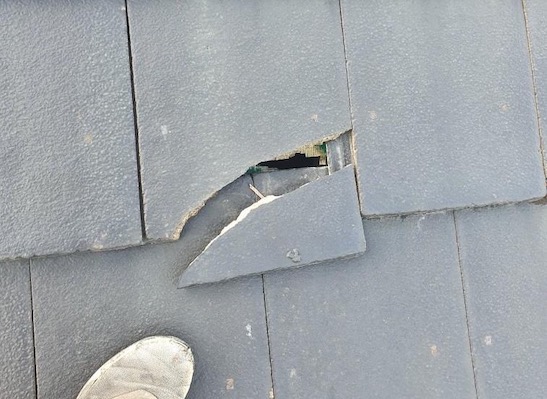 Steps to inspect your roof
Interior Inspection – I would recommend that you begin the roof inspection from the inside. Grab the torch and climb into the roof cavity. You are looking for issues that may cause problems, but might be missed during the external roof inspection.  If you notice any wet areas, sagging, mould, dark spots or holes make a note where you are positioned to check the roof exterior in those areas.
Exterior Walk Around – From the ground walk around the perimeter of the home looking for any signs of damage, ageing or sagging. Identify areas that may need closer attention.
Algae, Moss and dead leaves– if your roof has sections with algae and moss growing or leaves accruing, these areas are more susceptible to water damage and leaks and require closer checking.
Gutters and down pipes clogged or full of leaves – If the rain water can not escape through the gutters and down pipes this can lead to overflowing and flooding issues and water damage.  Clean the gutters and down pipes and while you are at it trim any overhanging branches.
Dirt or sediment on the roof – Could lead to larger problems in the future, sediment could be tiles deteriorating and this may also cause drainage issues.
Aged, damaged or missing Tiles or Shingles – this can cause weather and water damage to the home, and can be a major cause of roof damage and very costly if not fixed early. Look at shingles for granule loss, this indicates they have been damaged by weather or have aged. They are not protecting your home and need replacing.
Curled or bucked Shingles – this can be caused by moisture and poor ventilation in the roof. If you identify this it is worth investigating further.
Check the valley – look for broken tiles and debris that has accumulated in the valley, clear it out and get any breakages repaired or replaced.
Check the flashing – if the water-proof strip of metal is cracked or damaged it will need to be repaired.
Check for fading – if the roof is looking worn, dull or faded it may be time to get the experts in and look at a roof restoration or re-paint.
For any areas you cannot reach safely – check with binoculars to look for obvious damage – holes, cracks, leaks.
I've done the inspection, what now?
If you have found multiple issues – leaks, cracked tiles or other problems, it is best to call in a tile roofing expert and have them take a look and give you advise on how to proceed.
They may suggest repairing, restoring or replacing the tile roof depending on the damage found.  If found early minor issues can be fixed before they become major headaches.
If you did not find any problems with your roof inspection, be sure to set a reminder on your calendar to check again in 6 months time (or after a major weather event).
Major Storm damage to your roof
If you've lived South East Queensland for any time, you will no doubt be familiar with our rather menacing and destructive storms. For example, one minute it's hot and the sun is shining, and the next the sky is dark, the wind is blowing a gale and hailstones are falling from the sky. These storms often tear large branches off trees and can even uproot huge trees themselves. A tree falling on your roof can be  very scary as well as costly. Even hail can do a fair amount of damage all on its own if it's big enough.
If you have storm damage to your tile roof, get in touch with us at Bayside Roof Repairs and Restorations. We've seen just about everything you can imagine—from damaged tiles, to holes in the roof, to roofs that need to be completely replaced. We'll assess the damage and get onto it as quickly as possible, especially if you have a hole in your roof, exposing you and your loved ones to the elements!

If you would like to discuss a roof inspection (and you live in Brisbane north to the Sunshine Coast or Brisbane South to Logan and Brisbane Bayside or Redlands) contact us at Bayside Roofing. We specialise in tile roof restorations & repairs and tile roof & gutter painting . We also have a tile roof maintenance service so we can check your roof on a regular basis. For single story metal roofs up to 2.4m we offer roof and gutter painting only